Spare Change Collection
My Coins Count Program,
formerly called "Penny Power"
Penny Power, newly renamed "My Coins Count", is the program started some years ago to collect spare change for MCC's Water Project. And while there was doubt that a few spare coins could make a difference, the Penny Power Project has become the fasted growing fundraiser at the Relief Sale.
Anyone can participate – children and adults alike enjoy dropping pennies, nickles, dimes, quarters, dollar bills and checks into the Spare Change Wishing Well or Water Jugs at the Relief Sale. Churches enjoy the friendly "competition" of trying to raise more spare change than their "rival" churches. It's all in good fun, though, and benefits Water Projects sponsored by Mennonite Central Committee (MCC). These projects provide clean drinking water and new wells for communities all over the world. To learn more about the need for safe, clean water and how MCC is working to help families and communities with their water needs, click here.
If you would like to participate, you can drop off your change at participating area Mennonite Churches, as well as at the Relief Sale in August. You can also mail a check, designated for Penny Power to Ohio Mennonite Relief Sale, c/o Penny Power, Box 62, Kidron, Ohio 44636. Plus, now you can make a donation online using PayPal.
If you have any questions about our 2022 My Coins Count Campaign, please contact coordinator Kelly Troyer at 330-466-4848.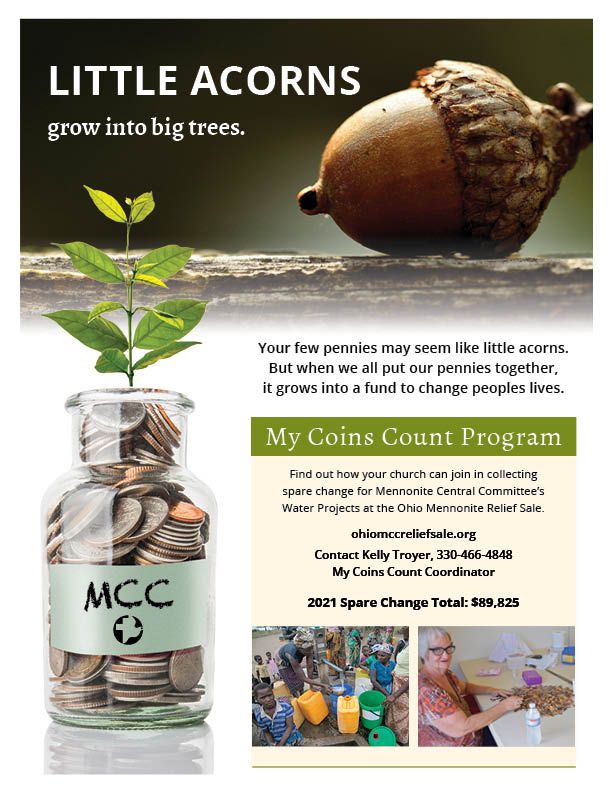 How MCC's Water Projects Help
In Dong Lai, a village in Vinh Phuc province, nearly 40 percent of the population lives in poverty. People earn a living through agriculture, but the quality of their crops depends on how accessible water is. There is no water resource in the village, and farmers buy water from lakes in a neighboring village. The lakes are far away, and the water farmers can get often is not adequate for all the fields. 
Village residents pooled contributions to buy a pump and repair the pumping station near the lake. However, the pumping station only provided water to families close to the station. The village wanted to be able to provide water for more farmers in the community. MCC is helping the village build a canal and organize a cooperative to manage it.
The farmers contribute labor and an irrigation fee to help maintain the irrigation system. Some 100 families are benefiting from the canal. They have now been able to plant three crops per year instead of two, and the yield on the crops has increased 10 to 20 percent. The cooperative project encouraged the community to work for other advances in the region.
$20 helps to construct enough of a canal to provide water for one family
$200 helps to construct enough of a canal to provide water for 10 families
Source: www.mcc.org
Mennonite Central Committee has a variety of resources to use to help your church collect funds for My Coins Count.
Track your progress.
You can use a large container, such as a wheelbarrow or wagon, to collect change over time. Let the children take part and make your offerings "loud" as the change is deposited into your container. Make a chart and track your progress.
Consider My Coins Count as your Bible School fundraiser. Or, use the My Coins Count song (below) in your Moment in Mission or Sunday School classes.
Make a match.
Invite adults or a Sunday School class to match the contributions of the children and quickly multiply your impact.
MCC's My Coins Count Song